The marketing conference "Ne Plus U" will be held in Osaka for the first time from July 21st to 22nd, 2022. It has been held in Tokyo for the past three years (2020 will be held at the same time as online). This time, we will introduce three sessions on the theme of creativity and communication among the official sessions.
Will history repeat itself? What is "drawing the subtleties of human emotions" unraveled from the legend? ~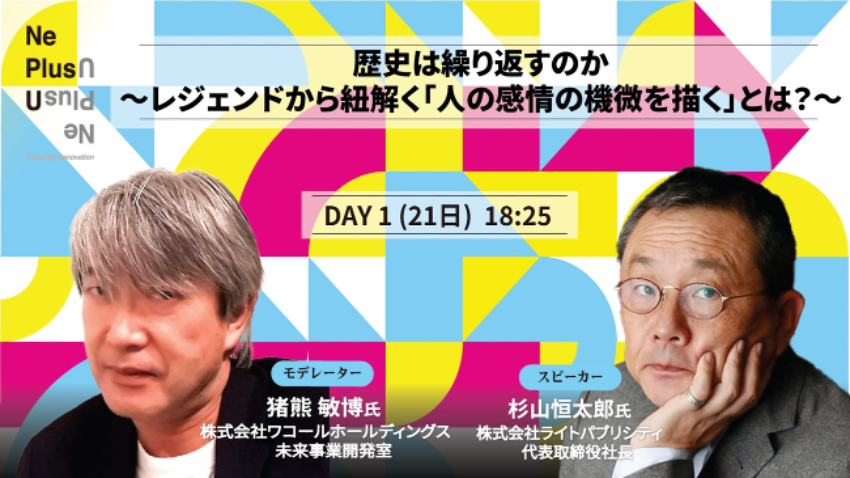 The # 1 creative session for Neplus You Osaka was a dialogue session between Mr. Kotaro Sugiyama, President of Light Publicity, and Mr. Toshihiro Inokuma of the Future Business Development Office of Wacoal Holdings.
Mr. Sugiyama, a master of the advertising world and a legend. He has continued to create memorable commercials for many people, such as the Shogakukan "Pika Pika First Grade" campaign, Seven-Eleven "Seven Eleven Good Mood", and Suntory "Suntory Royal" series. He describes commercials as "a unique visual culture." Advertising has changed with the evolution of technology, from radio to television and from television to the Internet. What has Mr. Sugiyama cherished while watching the changes in the times and the environment, saying that "marketing communications such as advertising express the desires of that era straightforwardly"? Mr. Inokuma of Wacoal acts as a listener and unravels Mr. Sugiyama's "things that change, things that do not change".

 
The relationship between marketers and creators creates-What is creative that resonates with people? ~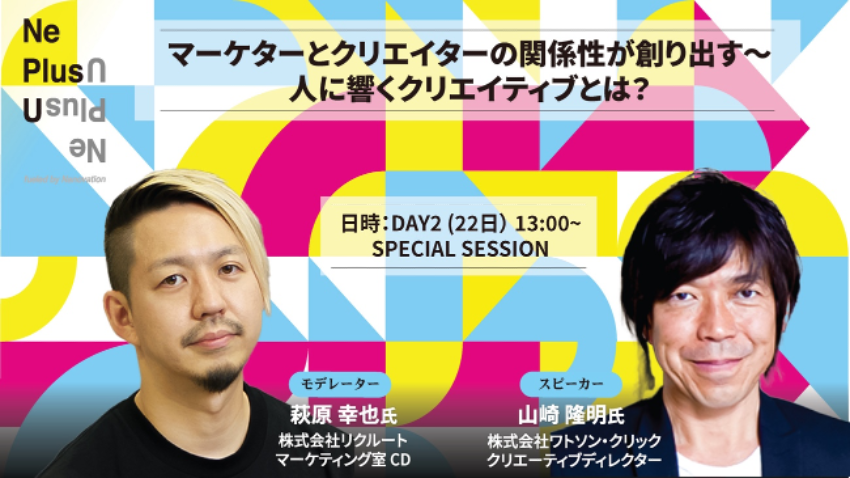 Creative Session # 2 was announced by Watson Click Creative Director Takaaki Yamazaki and Recruit Marketing Office CD Yukiya Hagiwara.
Mr. Yamazaki of Watson Click, who has worked on recruitment "Hot Pepper Gourmet", Aiful "Is there love there?", And recently TV commercials for "Coincheck" starring the talent Shota Matsuda. "In the present age when reviews are visualized, advertisements that only praise products and advertisements that lie are hidden by consumers. On the other hand, only the message that you want to convey is real. Sometimes the digital advertising that conveys to the consumer works, and the definition of good advertising expression is ambiguous. "
In this session, Mr. Hagiwara of Recruit, who has worked on many projects with Mr. Yamazaki, will be the moderator, "What is the relationship between creators and marketers to create good creatives?" "Things that do not change" will be unraveled through Mr. Yamazaki's creative work.

 
Why is communication disliked? (You're too smart)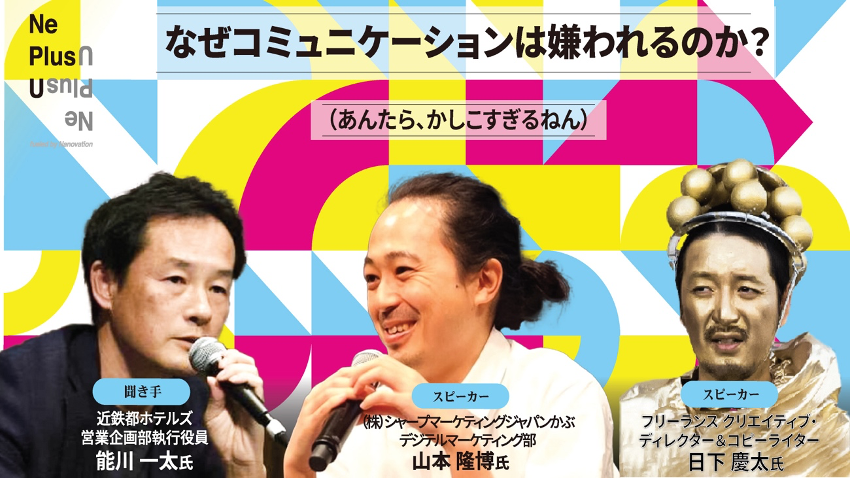 Communication Talk # 1 was announced by Mr. Ichita Nogawa, Executive Officer, Sales Planning Department, Kintetsuto Hotels, Mr. Takahiro Yamamoto, Digitel Marketing Department, Sharp Marketing Japan Co., Ltd., and Kusaka, Freelance Creative Director & Copywriter. Keita will hold a session on the theme of "Why communication is disliked?"
Consumers receive messages from businesses at various touchpoints every day, many of which are ignored or disliked as "annoying." In this session, Mr. Yamamoto, who communicates with consumers every day as a "person in Sharp", and a young creator created posters for each store in the shopping district, which became a hot topic all over the country, and attracted a lot of attention. Mr. Kusaka, a copywriter who is the creator of the "Shopping Street Poster Exhibition", will appear and talk about "the secret of communication that will make you like it."
The interviewee is Mr. Ichita Nogawa, Executive Officer of Kintetsu Miyako Hotels Sales Planning Department, who has served as the manager of the promotion department of Kintetsu Railway and the manager of Shima Spain Village. Now that consumers are negatively aware of communication from companies, how can they be heard in a favorable manner? think of.
The theme of "Ne Plus U", which will be held for the first time in Osaka this time, will be "things that change, things that do not change-and things that change, things that do not change". Marketers who drive business feel that the world is undergoing many changes, such as the outbreak of the new coronavirus and the evolution of technology. In fact, such changes have occurred, but in many cases they have not changed, and we will consider the need to accurately grasp the circumstances surrounding us and act accordingly.
"Ne plus ultra", which is the origin of the name of the conference, means "extreme" and "limit that cannot be exceeded" in Latin. By actively interacting with speakers and participants, it will be a place where various business collaborations can be realized, participants' information, knowledge and experience can be connected, and the greatest power can be given to the Japanese marketing field.
・ "Neplus You" will be held in Osaka for the first time, top marketers will gather for two days, and Tomonobu Tominaga, Koji Kage, and Takahiro Omatsu will be on stage.(Now open)
Click here for the official page of Ne Plus U Osaka

 
Nepras You Osaka Event Overview
name

Ne Plus U Osaka

Date and time

Thursday, July 21, 2022-Friday, July 22

venue

Dojima River Forum
1-1-17 Fukushima, Fukushima-ku, Osaka-shi, Osaka 553-0003

How to apply

Entry from the official website of Ne Plus U Osaka

Entry fee

Brand frame: Free (examined)
Premium brand frame: 100,000 yen (110,000 yen including tax)
Partner frame: 200,000 yen (220,000 yen including tax)

hashtag

#npu Osaka

Organizer

Nanovation Co., Ltd.

Special cooperation

Agenda note