[Rakuten Group, Inc.]
――Distributing featured works localized in China while inheriting the world view of the original manga that gained popularity in Japan ――
The video distribution service "Rakuten TV" operated by Rakuten Group Co., Ltd. will monopolize the Chinese drama "Hikaru no Go", which is a live-action version of the popular Japanese manga, from 12:00 on May 13 (Friday) in Japan. It will be delivered in advance.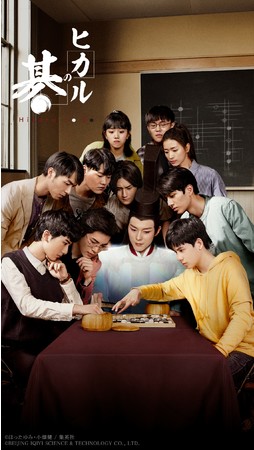 "Hikaru no Go" (Original: Yumi Hotta Manga: Takeshi Obata) is a popular Go manga serialized in "Weekly Shonen Jump" (Shueisha) in 1998, and was made into a live drama in China. Delivered in China in 2020, it gained popularity as a localized work set in China while inheriting the world view of the original. In this work, when elementary school student Shi Kwang found an old Go board at his grandfather's house, the soul of the Go board, which had been sleeping for a thousand years, was the leading player in Go during the Nancho Liang dynasty. It is a story that unfolds from awakening the goban (chu-in). It is a work that expresses the love of Go of all generations regardless of age and gender, and what can be obtained through Go.
On "Rakuten TV", you can watch various video works such as domestic and foreign dramas, movies, sports contents, live distribution of stages and concerts on various devices (Note). Starting with the distribution of this work, we will further enhance the content of various genres and prepare an attractive lineup for more users.
"Rakuten TV" will continue to improve the convenience of services and expand the content, aiming to provide services with high customer satisfaction.
(Note) For details on compatible terminals, see the "Rakuten TV" site ( https://tv.rakuten.co.jp/static/guide/device )Please Confirm.
■ Outline of distribution of Chinese drama "Hikaru no Go"
・ Performers: Hu Sien Shu / Shi Kwang, Zhang Chao / Chu In, etc.
・ Distribution start date and time: Episodes 1 to 18 will be distributed from 12:00 on May 13, 2022 (Friday)
Episodes 19-36 will be delivered from 0:00 on June 9, 2022 (Thursday)
・ Number of episodes sold: All 36 episodes (Episode 1 is free)
·price:
Purchase 440 yen (tax included) / each story
11,088 yen (tax included) / All stories
Rental 7 days 220 yen (tax included) / each story
Rental 30 days 5,390 yen (tax included) / All episodes * Rental all episode packs will be on sale after 0:00 on June 9, 2022 (Thursday)
・ Special page: https://tv.rakuten.co.jp/special/hikarunogo/
* Please check the special page for details.
* Follow-up news other than the distribution summary is "Hana-ryu / Korean-ryu / Thailand[RakutenTV Official Twitter]" ( https://twitter.com/rakuten_asidra ) Will inform you.
(C) Yumi Hotta / Takeshi Obata / Shueisha
(C) BEIJING IQIYI SCIENCE & TECHNOLOGY CO., LTD.
that's all
To details of corporate press release
(2022/04 / 27-19: 47)