TourBox Tech Inc. (Tourbox Tech, Headquarters: Silicon Valley, hereafter TourBox Tech), which develops and sells the "TourBox" series of creative controllers for PCs and Macs (commonly known as left-handed devices), is the latest. We have decided to release the model "TourBox Elite" in Japan in late June. Currently, the official website (https://www.tourboxtech.com/jp/tourbox-elite.html), We are accepting pre-orders, and will start shipping and general sales from the end of June.
The price is an open price (estimated selling price Classic Black / Ivory White 32,980 yen)[税込]Modern Smoke Black Translucent 36,980 yen[税込]).
For sale, TourBox official website (https://www.tourboxtech.com/jp/), Amazon, Rakuten Ichiba EC site, Yodobashi Camera are planned.
The other day, prior to the launch in Japan, from March 1st to April 30th, 2022, the crowdfunding service "CAMPFIRE" (Campfire)http://bit.ly/cf-prtimes) Implemented the project. In the end, the total amount of support was 146,230,261 yen, and the number of supporters was 6,596. This total amount of support is ranked 8th in the CAMPFIRE historical total amount of support ranking.
We would like to express our sincere gratitude to all of you for your support. As a left-handed device, the "TourBox" series has been praised by more than 100,000 creators around the world. The latest "TourBox Elite" is now compatible with the creator's long-awaited Bluetooth, and can now be used with a wireless connection to a PC or Mac.While maintaining the conventional usability, it is a product that has been further enhanced by realizing functions that utilize Bluetooth and an operation feeling that incorporates an advanced wideband vibration motor.
We would appreciate it if you could consider introducing it in your medium.
The influencers of the previous experience are highly acclaimed !!
Naoki Saito, a Pokemon card certified illustrator, and many other influencers have experienced "TourBox Elite" in advance, and have praised the performance and usability of the product. Naoki Saito has posted a video of his usability on his YouTube channel, saying, "A dedicated left-handed device for painters! Once you use it, you can't let go! It's so high performance !!!".
In addition, it has also been well received by YouTuber and others.
・ Naoki Saito
A must-see item for painters! ??One-handed device
https://youtu.be/baF_j3S3JfA
・ Sassan
[Revolutionary device]Video editing efficiency has improved dramatically with this guy.
https://youtu.be/EyB2sQjSJaE
・ Natsume Sanchi
A challenge that professional painters can't finish drawing "until they run out of ideas" …[Improvisation character designer endurance]
https://youtu.be/-oLLvhNL08k
The appearance follows the previous "TourBox" series, but it is mainly powered up in the following points. It has evolved so that creators can handle creator software more easily and comfortably. We are powering up to an unprecedented left device.
・ Creator's long-awaited Bluetooth support
Until now, it was connected to a PC with a USB cable, but "TourBox Elite" is now compatible with Bluetooth and can be connected wirelessly. It adopts dual Bluetooth, and it is possible to connect two PCs / Macs and switch at will. The presets are also switched automatically, so you can work seamlessly on multiple tasks. Use two AAA batteries on the back of the main unit. The certification of technical suitability has been obtained along with the wireless connection. You can also make a wired connection as before.
・ Equipped with 4 types of switch encoders to enhance the feel of the buttons
Each button of "TourBox Elite" has 4 types of switch encoders according to the role. Each button has been improved so that the click feel is different, realizing an unprecedented user experience.
・ Achieves a feeling of operation that engraves scales with knobs and dials
The "TourBox Elite" has a built-in vibration motor that provides haptics feedback. When you operate the knob, scroll, or dial, the main body vibrates with a click, and you can enjoy the feeling of engraving the scale with your fingertips. Thanks to this, analog operation can be performed more comfortably than before. It is also possible to customize the strength and rotation width of the feedback.
・ Three types of body colors are available, including skeleton items.
The body color is ivory white in addition to the classic black of the previous series. In addition, a translucent modern smoked black translucent is also available as a special edition. There are 3 types in all, and you can choose according to your preference.
Software such as Photoshop, Lightroom, CLIP STUDIO PAINT, Premiere, and Final Cut Pro are indispensable creative tools for creators who are active in the fields of photography, video, illustration, design, and music. In order to create comfortably, it is necessary to switch tools by shortcut operation, but the keyboard designed for character input is not smooth because the operability is not good. The "TourBox" series developed by TourBox Tech from Silicon Valley is a completely new creative controller created for creators. Intuitive and efficient operability, excellent accessibility, and various customization functions have earned it a high reputation all over the world. It has been used by more than 100,000 creators so far.
[Main features of the creative controller "TourBox" series]
● An epoch-making controller that enables comfortable operation of creative tools for PC
● Intuitive operation is possible with "knob", "scroll", "dial", etc.
-You can freely change the enlargement / reduction of the image by moving the "scroll" up and down.
-You can freely adjust the thickness of the brush with the "knob".
-You can freely change the parameter values ​​with the "dial".
-You can comfortably adjust the timeline with 3 types of rotary buttons with video editing software.
● Each button can be combined (pressed at the same time) or double-clicked, and many key operations can be performed.
● You can assign software shortcuts to the "TourBox" buttons and use them as you like.
● Each customized operation can be saved in a preset and automatically switched according to the software.
You can also share presets as they can be imported and exported.
● Adobe software such as Photoshop, illustrator, Premiere and CLIP STUDIO PAINT
It can be used not only with creative software but also with ordinary software.
PC software can be operated more efficiently
Each button in "TourBox" has a unique shape and is irregularly arranged. Thanks to this, intuitive and comfortable operation is possible without looking at the controller. The user assigns and uses the shortcut of each software. It is also possible to operate by combining multiple buttons, and by adding the number of TourMenu settings, hundreds of types of key operations can be set. Therefore, you can run the software efficiently with one hand.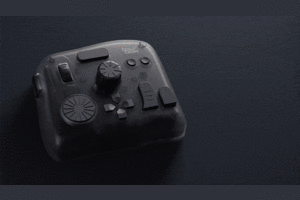 A new and intuitive controller with rotary buttons such as "knobs" and "dial"
In addition to various buttons, "TourBox" is equipped with controllers such as "knobs", "scrolls", and "dial" that can be rotated and operated. By using them, you can intuitively enlarge or reduce the image, adjust the thickness of the brush, and finely change the numerical values ​​of the parameters. Achieves analog operations that are not possible with a normal keyboard. It can also be used in combination with a mouse or tablet, which increases production efficiency and creativity.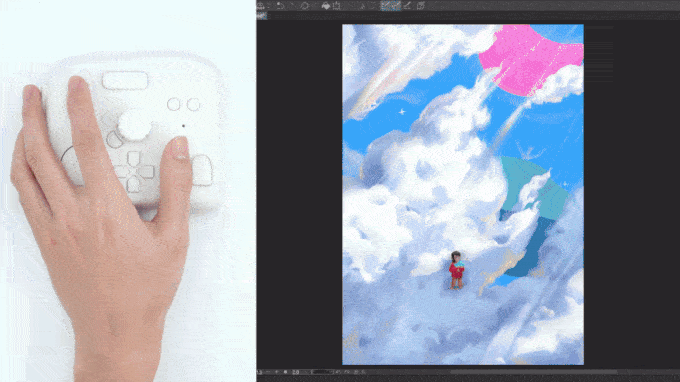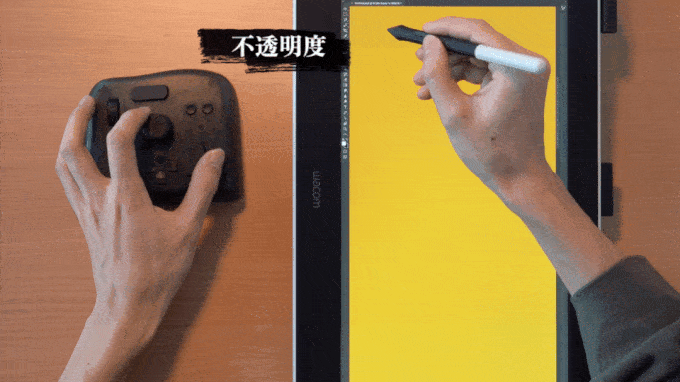 You can customize the operation to your liking
In "TourBox", the user can assign the shortcut keys of the PC software to each button of the TourBox and operate it. The set button presets are prepared for each software and automatically switch according to the software used. It is also possible to share the set presets with other creators. "Photoshop" and "Lightroom" come with presets, so you can use them immediately after purchase.
You can easily perform complicated key operations that are repeated with the macro function.
The console software of "TourBox" has a macro function, which allows you to perform multiple consecutive key operations with a single click. In addition to registering key operation procedures in the macro function, you can also set mouse operations, text input, open paths, and so on. What's more, macros can be executed in order, or in reverse order or repeated.
Easily select various frequently used menus with our unique "Tour Menu"
"TourBox" has a function to register various operation menus called "Tour menu" in its own menu. Simply put, it's like creating a right-click menu as you like. Since the operation commands of each software can be arranged according to the user's own preference, the operation will be comfortable if the frequently used ones are lined up.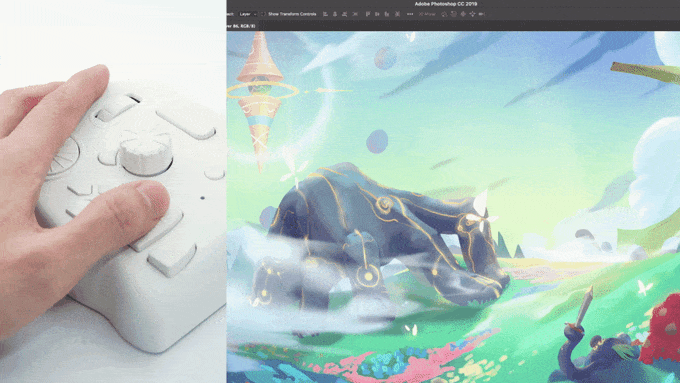 Photo parameters can be adjusted by rotating the knob with image editing software
In photo / image editing software such as "Lightroom", "Photoshop", and "Camera Raw", various color adjustments can be made easier by using "TourBox". In the past, I think you used to use the mouse or arrow keys to increase or decrease the parameter bars such as exposure, contrast, and highlighting. Just by rotating the knob (knob) of "TourBox", you can quickly increase or decrease it, and even fine adjustments are possible.In addition, since various color adjustment items can be switched with the slider, a large number of photos can be taken.
The work of adjusting the truth can be done comfortably only with "TourBox".
Rotating buttons in video editing software make operation on the timeline comfortable
Video editing software such as Final Cut Pro, Premiere, and DaVinci Resolve requires timeline operations. By using the three rotary buttons installed in "TourBox", such as expanding and contracting the timeline, moving quickly, and frame advance, you can operate it more intuitively and shorten the editing work time.
Not only creative software but also business software will be shortened.
"TourBox" can be used not only in various Adobe software, but also in various creative software such as illustration production, video editing, and music editing software. Not only that, but because it is compatible with all kinds of software, it can also be used for business software such as Microsoft's Excel and Word, and Internet browser software.
TourBox console software is constantly evolving
The version of TourBox console software is currently updated to 3.1.0. Now, it is equipped with "Tour Menu" that can be used by automatically switching presets, setting macros for key operations, and registering various operation menus in its own menu. We continue to add new features based on the opinions of users, and we are satisfied with users in various fields.
size:116 x 101 x 44 mm
Weight:376g (without battery)
Connection method:Dual Bluetooth 5.1, Wired USB Type-C
Corresponding system:macOS 10.13 or later (M1 chip compatible), Windows 10 or later (Windows 7, 8, 8.1 are wired only)
Scheduled release date:Scheduled for late June 2022
Scheduled release price:open price
(Estimated selling price Classic Black / Ivory White 32,980 yen[税込]Modern Smoke Black Translucent 36,980 yen[税込])
TourBox official website:https://www.tourboxtech.com/jp/
Facebook:https://www.facebook.com/TourBoxJapan/
Twitter:https://twitter.com/TourBoxJapan
Instagram:https://www.instagram.com/tourboxofficial/
Official LINE:https://lin.ee/yGJ1YST
CAMPFIRE project:http://bit.ly/cf-prtimes