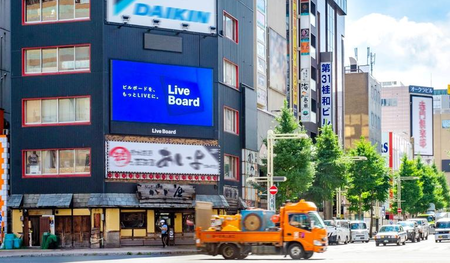 Hokkaido / Sapporo_Watanabe Building
LIVE BOARD Inc. (Headquarters: Shibuya-ku, Tokyo, President: Jun Sakurai, LIVE BOARD) is NTT DoCoMo's "Customer Understanding Engine".* 1And "docomo data square"TM * 2]Etc. are used to analyze the LIVE BOARD outdoor vision.While there are signs of recovery in travel demand, such as deregulation due to the new coronavirus and the start of acceptance of foreigners, in Japan, from July to September (summer vacation and Silver Week) just before the vacation season. , From about 110 outdoor visions nationwide targeted by the LIVE BOARD networkVision for travel loversAnd ranked the visions with high percentages.
* 1 The customer understanding engine is a technology that constitutes the NTT Group's AI "corevo®". "Corevo®" is a registered trademark of Nippon Telegraph and Telephone Corporation
* 2 "Docomo Data Square" is a registered trademark of NTT DoCoMo, Inc. 
◆ "Where are you a travel lover?" LIVE BOARD outdoor vision ranking TO30 announced
・ Hokkaido is the monopoly in the top, and Fukuoka prefecture is concentrated in 4 media and major cities in the north and south within the TOP10!
From about 110 outdoor visions nationwideVision for travel loversAs a result of the analysis, 1st place Hokkaido / Sapporo_Watanabe Building, 2nd place Hokkaido / Sapporo_SABRO.TV, and TOP2 is monopolized by Sapporo. In addition, 3rd place Fukuoka Prefecture Hakata_Sun Life Hotel 2, 4th place Fukuoka Prefecture Hakata_SN Building, 5th place Hakata_Hakata Dontaku Vision, 7th place Fukuoka Prefecture Hakata_CS Vision, Fukuoka Prefecture Hakata 4 The result was that the media was ranked in.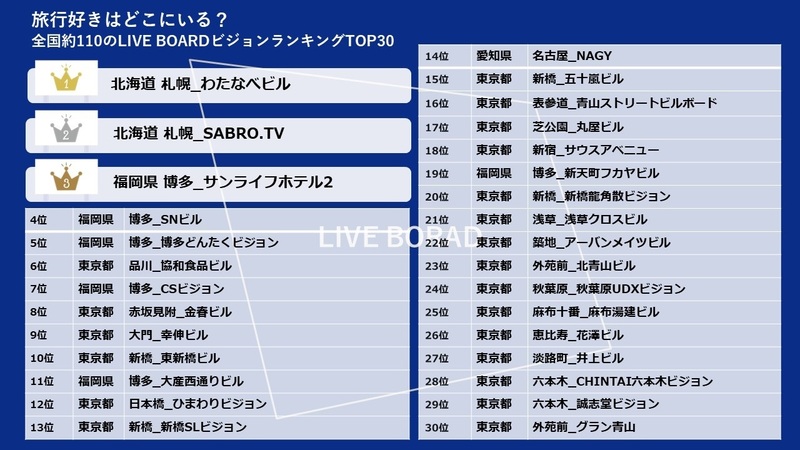 ・ The increase in tourists due to the Korona-ka and the traffic of businessmen have been decided! ??
Since Hokkaido is originally a tourist city, there are many visitors from outside Hokkaido to the population, and it has become a source of increased travel demand due to the mood of relaxation of self-restraint.*It is expected that people who like traveling will gather. Furthermore, in Fukuoka and Hakata, in addition to the same conditions as Hokkaido, there is a high tendency for many airport users such as businessmen to gather due to the convenience of transportation access from Fukuoka Airport and Hakata Station, and the figures for the entire city may have increased. .. It is expected that the same thing will happen if the area around Shinagawa Station is ranked 6th.
* Google TrendsIf you check the amount of search keywords for "travel" in, it seems that it has been increasing gradually since the beginning of 2022, especially from April. (See the figure below)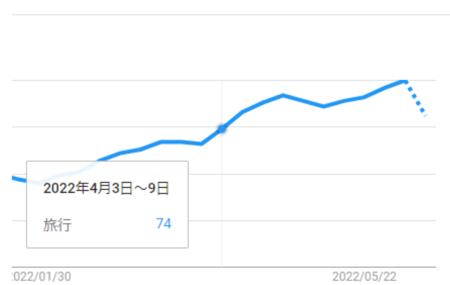 Google Trends "Travel" Search Results
Target area: Nationwide
Target audience: Select "Domestic travel" or "Overseas travel" for questions such as "what you are interested in", "hobbies", "what you did in the last 3 months", and "what you plan to do in the next 3 months". People who have downloaded, people who have a history of downloading "overseas travel apps", people who have a history of "airplane users of airport Wi-Fi data"
Target vision: LIVE BOARD outdoor vision in about 110 locations nationwide
(Survey by docomo data squareTM)
Data period: April 2022
* Provided by NTT DoCoMo, Inc.
Reference press release:
・Delivered on May 26, 2022 LIVE BOARD Started providing "Vision Ranking List" utilizing "Customer Understanding Engine" data that analyzes visitors of outdoor vision.
・Delivered on August 4, 2020 For the first time in Japan, we started offering "docomo data square" that enables measurement of effects from contact to purchase of TV commercials, WEB advertisements, and digital OOH on an ID-by-ID basis.
◆ LIVE BOARD screens nationwide
Currently, it has more than 16,000 distribution aspects nationwide. In addition to the screens installed in-house, cooperation with other companies is expanding day by day.
URL: URL:https://liveboard.co.jp/screen
◆ What is "Customer Understanding Engine" data / "docomo data squareTM"?
The "Customer Understanding Engine" and "docomo data square TM" can analyze the visitor of the vision included in the LIVE BOARD network by extracting the user's location information and interests from the data held by NTT DoCoMo. This makes it possible to understand the features of about 110 visions nationwide. At LIVE BOARD, OOH*Impressions (number of viewers of advertisements) are sold. When planning ad delivery, we analyze the features of each vision from attribute data such as when, who, and where. You can reach the people you want to convey through a vision that assumes you have the target you want.
* Abbreviation for Out of Home.A general term for advertising media that come into contact outside the home, such as traffic advertisements, outdoor advertisements, and advertisements in commercial facilities.
inquiry:https://liveboard.co.jp/contact/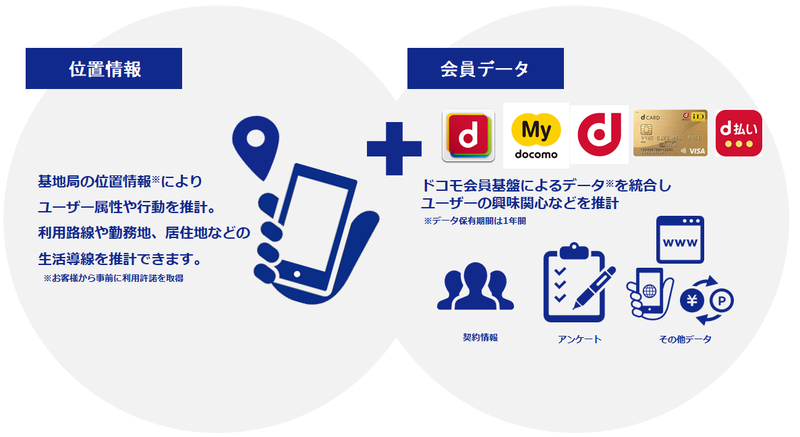 ◆ What is the vision ranking list?
The visit history of about 110 outdoor vision visitors nationwide targeted by the LIVE BOARD network is analyzed using the "customer understanding engine" and "docomo data square TM".Ranking visions with a high percentage of desired target visitorsIt is possible to provide it.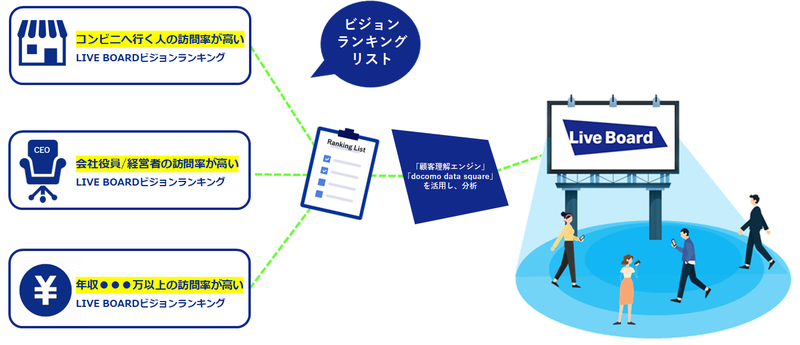 ◆LIVE BOARD Inc.What is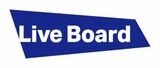 Achieve data-driven targeting and effectiveness verification
Digital OOH ad network operator
Achieved the first impression-based distribution in Japan in the OOH area. Even in a situation where people flow is likely to change, such as Korona-ka, we will develop an advertisement distribution and billing system that is as realistic as possible based on the number of people who are supposed to see the advertisement "at that time, at that place". .. In addition, by multiplying the unique network that bundles various digital OOH from all over Japan such as outdoor / indoor, train, station yard, etc. with the big data of Japan's largest carrier, conventional OOH such as targeting by gender and age We have made it possible to deliver from the "human" base, which was difficult with.