The virtual showroom "ORORU VIRTUAL TOUR" released by Oroll Co., Ltd. (Headquarters: Tottori City, Tottori Prefecture, Representative Director: Atsushi Kinoshita) on October 8, 2021 allows you to experience the "future with ORORU" with a 360-degree immersive feeling. We received the gold medal in the "Website section" of the 43rd "2022 Japan BtoB Advertising Awards".
[Japan BtoB Advertising Award Official Website]
http://www.bbaa.or.jp/jigyo/sogo/2022sogof.html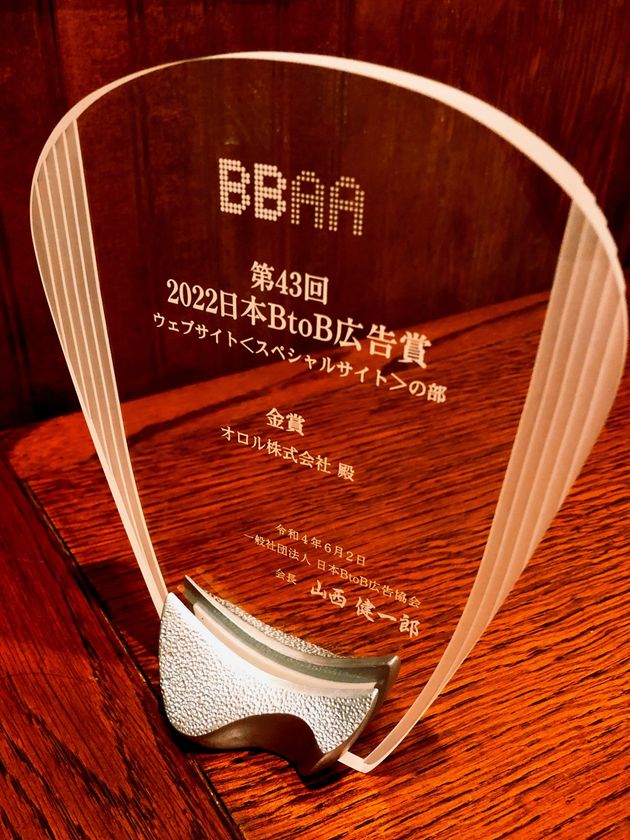 ■ What is ORORU VIRTUAL TOUR?
This content was created with the cooperation of BB Media Co., Ltd. (Headquarters: Nishi-Azabu, Minato-ku, Tokyo, Representative Director: Shinichi Sano) as a content that allows you to experience stainless steel coloring technology completely online. In the showroom, the image is switched between before and after the product is colored, and the content stimulates the inspiration of artists and architectural personnel.
It is a website where you can experience the introduction image and its merits while looking out over the interior colored in orol color, just like an actual showroom.
* Obtained domestic and international patents
[ORORU VIRTUAL TOUR Special Site]
https://ororu-inc.co.jp/special/jp/
English : https://ororu-inc.co.jp/special/en/
Simplified Chinese): https://ororu-inc.co.jp/special/ch/
■ What is the Japan BtoB Advertising Award?
This is a BtoB advertising work contest that has been held since 1980 to promote the spread and promotion of BtoB advertising. This contest focuses on communication tools in the field of BtoB advertising, commends excellent corporate communication activities (advertisers) developed through the advertising work and comprehensive technology (production company) involved in production, and business marketing.・ The purpose is to develop BtoB advertising, which plays a part in communication, and to improve the overall level.
■ What is "ORORU (R)"?
"ORORU (R)" is named after the French word "AURORE" of Aurora. By chemically thickening a thin oxide film (passivation film) that prevents corrosion of the stainless steel surface, the degree of light reflection is changed, and we have obtained a patent for Oroll Co., Ltd.'s original technology that shows 23 colors.
In the past, it was difficult to precisely control the thickness of the oxide film in the color treatment of stainless steel, and the color varied between materials and lots.
We have succeeded in precisely controlling the oxide film over a period of about 7 years. It is also possible to handle larger sizes and complicated shapes. It is the only stainless steel coloring technology in the world that enables uniform color tone.
This technology can be used in various industries such as nursing care equipment, medical equipment, automobile industry, metal processing manufacturers, machine parts manufacturers, work tool manufacturers, kitchen equipment manufacturers, housing exterior manufacturers, and entertainment machine manufacturers. Is possible.
■ Company profile
Trade name: Oroll Co., Ltd.
Representative: Atsushi Kinoshita, Representative Director
Location: 1 Naneicho, Tottori City, Tottori Prefecture 689-1121
Established: February 1, 2018
Business: Metal surface treatment
Capital: 10,000,000 yen
var modal_img = []; modal_img[1] = "https://www.atpress.ne.jp/releases/312080/img_312080_1.jpg"; modal_img[2] = "https://www.atpress.ne.jp/releases/312080/img_312080_2.jpg"; modal_img[3] = "https://www.atpress.ne.jp/releases/312080/img_312080_3.jpg"; modal_img[4] = "https://www.atpress.ne.jp/releases/312080/img_312080_4.jpg"; modal_img[5] = "https://www.atpress.ne.jp/releases/312080/img_312080_5.jpg";
$(".photo").click(function () { for (i = 1; i <= 20; i++) { if (modal_img[i]) { $('.modal_img' + i).prop('src', modal_img[i]); } } }); // ASAGAKEのhight //$(window).on('message', function(e){ // var dataset = e.originalEvent.data; // if (dataset['h'] > 0) { // $('.asagake_frame').css({'height': dataset['h'] + 'px'}); // } // // ボタンを表示する処理 // if (dataset['show_btn'] != undefined && dataset['show_btn']) { // // ここで丸いボタンを表示して、https://asagake.com/offer/ + code にリンクする // code_url="https://asagake.com/c/" + dataset['keycode']; // btn_html = dataset['btn_html'].replace(/"/g,'"') // .replace(/'/g,"'") // .replace(/</g,"<") // .replace(/>/g,">") // .replace(/&/g,"&"); // var button_html="'; // $('.news_detail_main').after(button_html); // } //}); // facebook (function(d, s, id) { var js, fjs = d.getElementsByTagName(s)[0]; if (d.getElementById(id)) return; js = d.createElement(s); js.id = id; // js.src="https://connect.facebook.net/ja_JP/sdk.js#xfbml=1&version=v2.11&appId=1323731851019247"; js.src="https://connect.facebook.net/ja_JP/sdk.js#xfbml=1&version=v2.11&appId="; js.async=true; fjs.parentNode.insertBefore(js, fjs); }(document, 'script', 'facebook-jssdk'));
*/}).toString().match(/\/\*([^]*)\*\//)[1]; $(function() { $.ajax({ url: "/API/AssociatedPr/", type: "GET", dataType: 'json', data: { pr_id: 312080 } }).done(function (data, status, xhr) { $.each(data, function(i, item) { if (data.length > 0) { $('#associated_pr_list').show(); } item.pr_publisher_name_encoded = encodeURIComponent(item.pr_publisher_name); let embedTemplate = embedObjectParametersToString(item, associatedPRTemplate); $('#associated_pr_list').append(embedTemplate); $('#associated_pr_list').css('margin', '10% 8%'); }); }) })
function embedObjectParametersToString(object, str) { Replacer = function(b,a){if(typeof a!="object"){a=Array.prototype.slice.call(arguments,1)}return b.replace(/\{\{(.+?)\}\}/g,function(d,e){return(a[e]!=null)?a[e]:d})}; return Replacer(str, object); }